The Resident Fellow programme draws together Academy of Fine Arts' students, teachers and visiting artists and writers in residence. The programme enables international artists and writers to work closely with the Academy of Fine Arts' community, the aim being to promote experimentation, reflection and discussion relating to art and society.
Intended for visual artists and art writers, the international Resident Fellow programme seeks to promote dialogue between Academy of Fine Arts' students and teachers. The programme is implemented in collaboration with HIAP - Helsinki International Artist Programme. In the form of lecture series and intensive courses, the teaching focuses on topics such as the impact of globalisation on art. The Resident Fellow Artists' teaching periods are fully integrated into basic teaching at the Academy of Fine Arts.
Resident Fellow programme visitors
Ilona Sagar lives and works in London. Using a diverse range of media spanning moving-image, text, performance and assemblage, she has formed a body of work which responds to the social and historic context found in the public and private spaces we inhabit. By instrumentalising historical archives and their institutions, not as an encounter with a safely sealed past, but as something current and unstable that speaks urgently to our present condition, she explores the links between language, surface, technologies and the body through our increasingly mediated encounters in social, political and experiential space. A significant aspect of her practice is the broad cross-disciplinary dialogue generated through collaboration with a range of art and scientific disciplines; including dance, architecture and neurology. Illusion and material [dis]honesty set the stage for works which seek to seduce, alluding to something familiar yet other. Ilona Sagar is the Stanley Picker Arts Fellow 2021 and the Saastamoinen Foundation, Helsinki, artist in residence for 2022. Forthcoming commissions include 'The Radio Ballads' Serpentine Gallery, where she is one of four new commissions with Sonia Boyce, Helen Cammock and Rory Pilgrim (2021/22), and is embarking on a new solo commission with Firstsite Gallery, Colchester (2023).
In 2018 Ilona Sagar won Research in Film Award at BAFTA HQ, recent projects include: 'Deep Structure'(2019) S1 ArtSpace, Sheffield, 'Living with Buildings', Wellcome Collection, London (2018/2019); 'Self Service' publication and event series, CCA and GOMA, Glasgow as part of Glasgow International (2018); 'Correspondence O', solo exhibition at South London Gallery, London (2017/2018); 'GLORIA', Yinka Shonibare Guest Projects 10 year anniversary, London (2018); HereAfter group show as part of the SPACE HereAfter residency, The White Building, London (2017); solo project at Pump House Gallery, London as part of 'The Ground We Tread' (2016).
Anastasia Ryabova
1 October – 31 December 2016
Anastasia Ryabova (b.1985) is a Russian contemporary artist who is best known for her Artists' Private Collections web project, which brings together private art collections owned by contemporary artists by placing them in a virtual museum. Ryabova is known for her works that play linguistic games.
Rana Dasgupta
17 March –15 May 2016
Rana Dasgupta (b.1971) is a British-Indian writer and essayist who lives and works in New Delhi. In his work, he examines globalisation, immigration and 2010s urban phenomena. Dasgupta is currently working on his latest novel, which is set in Finland. He also writes columns for Al Jazeera and is visiting professor at Brown University.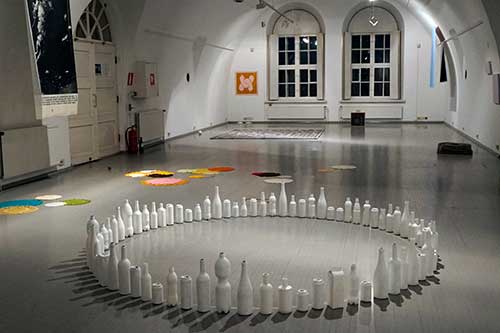 Wolf von Kries
15 January – 16 March 2016 and 6 September – 1 October 2016
Wolf von Kries (b. 1971) is a German artist living in Berlin. He has developed a multidisciplinary approach and combines different media such as installation, video, drawing and collage. Von Kries's work often involves subtle interventions into everyday routines and the subversion of ordinary objects, suggesting alternative ways of interpreting our environment.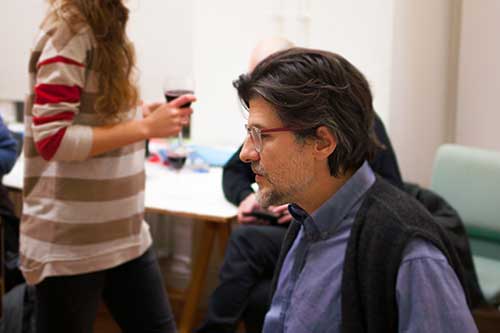 Branislav Dimitrijević
15 September –15 December 2015
Branislav Dimitrejevic (b. 1967) is a Serbian art historian, writer, curator and researcher. He has curated numerous exhibitions and biennales and was at one stage associate curator of the Museum of Contemporary Art in Belgrade. As a researcher and writer, his main interests are modernism and its history, modern architecture and contemporary art in a Yugoslavian context. Dimitrijević's work also focuses on Eastern European modernism, postmodernism, recent history, and related cultural research.
Renée Green
4–30 August 2015
Renée Green (b. 1959) is an artist, writer and filmmaker. She works with a wide range of media including sculpture, architecture, photography, print, video, film websites and sound, which she combines to create multi-layered installations. Her works are poetic, multidisciplinary studies of the movement of time, memories and stories. Green's art also reflects on changing intercultural experience and its impact on our thoughts and actions.
Ulises Urra
5 February – 30 April 2015
Ulises Urra (b.1972) lives and works in Cuba and Belgium. He was born in Havana, where he studied and graduated as an artist at the Superior Institute of Art. He is currently writing his doctoral dissertation on the influence of avant-garde collage on contemporary art at the Free University of Brussels. His works have been shown at the 9th and 10th Havana Biennales, the Cuba XXI Century exhibition and in various international art projects in Switzerland, Belgium and the United States. Urra uses a combination of media in his large-scale installations.
Photo: Suomenlinna, ©HIAP