Kuopio Football Club KuPS, supporters' cry of 'Banzai' often echoes around football grounds. Both the cry and the football club rank among the most traditional and best-known in Finland.
Saastamoinen Foundation's partnership with KuPS, and its particular support of the club's youth activities, originates with one of the Foundation's founders, Counsellor Osmo P. Karttunen, who strongly believed the future belonged to the young. Osmo P. Karttunen was not only an international figurehead in business life and politics, he was also a KuPS fan who served as chairman of the Football Association of Finland's Board of Directors from 1963–1974 and as a member of FIFA's Board of Directors from 1972–1976.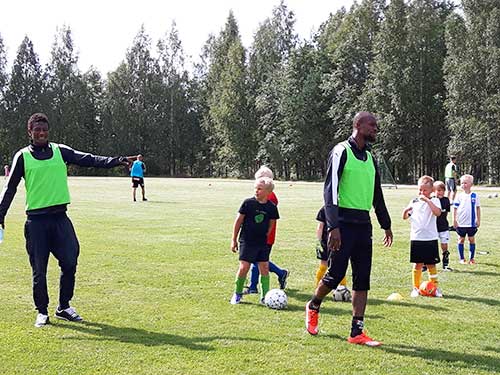 Saastamoinen Foundation supports KuPS long-term in three-year periods. Their funding enables the club to award the Osmo P. Karttunen grant to talented young players. The Foundation is delighted that the grant has paid for young players to gain international experience. Internationalisation is one of Saastamoinen Foundation's core values and has been since it was founded in the 1960s by Osmo P. Karttunen and his wife Liisa Karttunen, MA.
The club, Photo: Mika Kaján