Yrityskylä is a Finnish learning module that has received an award for the best education innovation in the world. The Yrityskylä learning modules for sixth- and ninth-graders create a learning path that discusses the themes of working life, economy and society. In addition to these themes, Yrityskylä encourages young people to adopt an entrepreneurial attitude.  
Yrityskylä's mission is for every Finn to have the courage and passion to act as an entrepreneurial member of society. Yrityskylä operates nationally in eight regions and reaches more than 75,000 pupils every school year.
Saastamoinen Foundation is a long-term significant partner of Yrityskylä Alakoulu. The Yrityskylä Alakoulu learning environment is a society of schoolchildren, a miniature city that simulates the operations of society and the role of different actors in the national economy. In Yrityskylä, every pupil has a job and gets paid for their work. In addition, pupils act as consumers and citizens as part of Finnish society.
Saastamoinen Foundation's national support for the initiative is realised through a functional artLAB station in every Yrityskylä Alakoulu. In artLAB, pupils learn about art and culture in a diverse and interesting manner. They participate in an art workshop, among other things. In a virtual reality environment, pupils first get to know a work of video art. Inspired by that, the pupils create their own audiovisual works of art with the help of a virtual reality headset. The role of the pupils working at the station is to encourage all Yrityskylä participants to take part in the workshop during their free time, among other things.
Saastamoinen Foundation has strongly supported the regional activities of Yrityskylä Itä-Suomi in Eastern Finland, and its operations have been ongoing since 2011. Annually, approximately 8,300 sixth- and ninth-graders from Eastern Finland visit Yrityskylä in Kuopio. Promoting art and cultural education is an important part of Yrityskylä, and the miniature city of Yrityskylä Itä-Suomi has, from the beginning, included the Saastamoinen Foundation Art Museum. Pupils take part in the museum's guided tours of art exhibitions and can also participate in unveiling ceremonies of public works of art. Yrityskylä Itä-Suomi's miniature museum has also had an artLAB station since the autumn semester of 2019!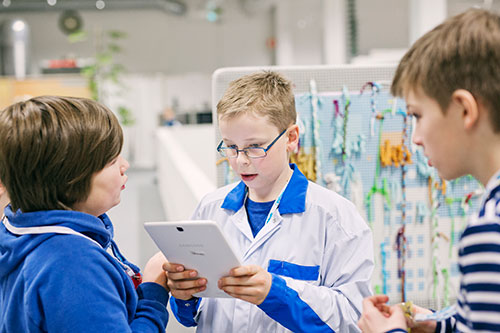 At Yrityskylä Alakoulu Espoo, art and culture have been included as part of the miniature society in the form of artLAB as well as a local operator, Espoo Museum of Modern Art EMMA. The miniature museum sets up an exhibition, organises an opening party and lends works of art to other actors in Yrityskylä. The museum also organises guided tours and creates art in artLAB.
Yrityskylä provides high-quality learning modules full of joy that meet the requirements of the national curriculum for municipalities and schools. Yrityskylä has operated since 2010. The organisation behind the operations is Economy and youth TAT.
Photo: Lauri Rotko, Me & MyCity, elementary school at Technology museum in Viikki