Me & MyCity is an innovative Finnish educational project and winner of the World Innovation Summit for Education (WISE) and Global Best Awards (to name just two achievements). Me & MyCity is all about young people. It offers high quality learning environments that encourage entrepreneurship and enhance working and social life in an international context. The development of this learning concept designed for sixth and ninth graders at comprehensive school took off in 2009.
Me & MyCity's mission is to help young people recognise their role in community by offering positive experiences of working life and entrepreneurship. Me & MyCity works across eight regions in Finland and is visited annually by 45,000 schoolchildren. The concept is also expanding its activities outside Finland. Stockholm, in neighbouring Sweden, has its own Me & MyCity since January 2017.
Saastamoinen Foundation strongly supports the activities and development of Me & MyCity Eastern Finland. More than 20,000 sixth graders in the Eastern Finland region have already visited Me & MyCity Eastern Finland and around 4,300 sixth graders from Eastern Finland visit Me & MyCity each year. Me & MyCity Eastern Finland is a key way of enhancing the artistic and cultural education of sixth graders. Activities include Me & MyCity's own art museum, which enables pupils to go on guided tours of art exhibitions and participate in art workshops.
The development and implementation of the art museum's educational content is worked on collaboratively by  Me & MyCity Espoo  and EMMA – Espoo Museum of Modern Art. Saastamoinen Foundation's support helps promote the Me & MyCity Art Museum through new future solutions.
Me & MyCity provides municipalities and schools with new pleasurable learning methods that also implement the curriculum. The coordinator of Me & MyCity is the Economic Information Office (TAT).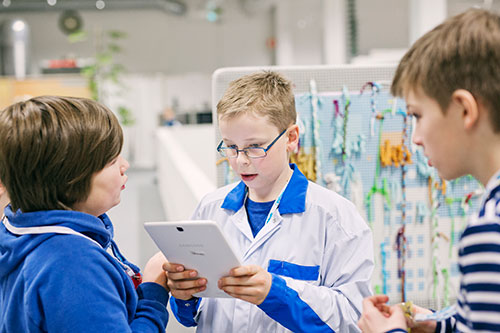 Photo: Lauri Rotko, Me & MyCity, elementary school at Technology museum in Viikki