The world's only international live art prize was awarded for the sixth time in 2019. The prize sum is 30,000 euros, which makes it one of the largest cultural awards in Finland. The ANTI Festival International Prize for Live Art is awarded annually to an exceptionally noteworthy artist or collective in the field of live art. The prize is funded by the Saastamoinen Foundation.
Winner in 2019: Dana Michel (CA)
Dana Michel was revealed as the 6th winner of the prestigious prize during the ANTI Prize Party in Kuopio, Finland. The 2019 shortlist comprised of four celebrated artists from across the globe: Cuqui Jerez (ES), Dana Michel (CA), Mammalian Diving Reflex (CA) and Keijaun Thomas (US).
The 2019 prize saw a chance in the winner selection process with the new Shortlist LIVE! concept funded by the Kone Foundation. For the first time ever, ANTI - Contemporary Art Festival presented the shortlisted artists live as a part of the 2019 festival programme in Kuopio. The jury had personal meetings with each of the artists and decided on the winner after seeing each nominee's presentation.
The 2019 jury's chair was internationally acclaimed author Saara Turunen (FI) and the other members are reknowned artistic director and cultural leader Daniel Brine (UK) and celebrated professor, academic and artist Thomas F. DeFrantz (US).
The Jury states of the winner:
"Constant Surprises - intimacies and small gestures. Strength and physical ability, resisting presumptions and testing suppositions.  Dana Michel makes work in order to see better and know better.  She explores an archive enlivened through performance.  Lifetimes of experience animated.  Interiorities.  Intuitive making with objects that become… Free!  A remarkable poetics of movement and imagery, bound up in an ethically-engaged approach to making and sharing. Modest and accurate, measured and structured.  A faltering stagger reminds us to keep moving.  A dreamlike character - charismatic and absurdist.  We commend this clarity of performance, engaged in identity… dreamlike and touching in its way. A powerful presence of a female body.
We commend your vision and your creative path towards remarkable, unexpected images.  Striking, clear images that arrive and disperse unexpectedly.  Multitudes of memories wrapped into live art.  Everything here matters, everything sounds, everything vibrates into our shared experience."
Winner in 2018: Sonya Lindfors (FI)
Lindfors was revealed as the 5th winner of the prestigious prize by a short film simultaneously published online and screened during the ANTI Prize Party in Kuopio, Finland.
The 2018 shortlist comprised Lindfors and three internationally celebrated artists from across the globe; All The Queens Men (Australia), Nic Green (United Kingdom) and Jeanne van Heeswijk (Netherlands). Their work shares an urgent fascination with the questions of our time, essaying ideas of inclusion, equality, community, diversity, feminism, power, blackness.
The 2018 jury was chaired by Jacques Rancière (France), one of the most significant and influential philosophers of our time. The jury is completed by renowned performer and choreographer Eisa Jocson (Philippines) and Lois Keidan (United Kingdom), co-founder of the London Live Art Development Agency.
The Jury states of the winner:
"Her practice is of vital importance to its immediate contexts and Lindfors works to allow others to work, to create spaces of exchange and dialogue where previously they were missing. Her contribution to arts and culture is quickly becoming essential, foundational to the sets of social discourses around equality, diversity, gender, and sexuality that are reshaping our world."
Winner in 2017: Tania El Khoury (LB)
The Lebanese artist beat three other outstanding contemporary artists from across the globe who were all competing for the top prize - Sethembile Msezane (South Africa), The vacuum cleaner (UK) and Alexandra Pirici (Romania).
Tania was picked as the winner by a jury consisting of international art professionals. In the Chair is Fiona Winning, formerly the Head of Programming at the Sydney Opera House, alongside Lois Keidan (co-founder of the Live Art Development Agency, previously Director of Live Arts at the Institute of Contemporary Arts, London) and Paris-based Taiwanese artist and curator, River Lin.
Jury Chair Fiona Winning explains why they picked Tania as the winner:
"The sensitivity of this artist's work in orchestrating audience experience is extraordinary. It stays with us, is sometimes literally written onto us. She has foregrounded some of the burning questions of our time by creating resonant experiences that generate conversation and exchange. Tania's work is urgently needed and we thank her for it."
Winner in 2016: Terike Haapoja (FI)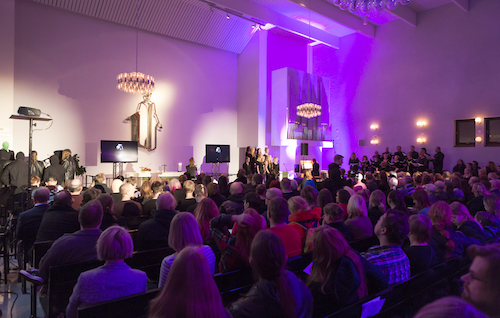 Terike Haapoja became the first Finnish artists to win the live art prize. The other three nominees of the year 2016 were Action Hero (UK),  My Barbarian (US) and Public Movement (IL). The winner was chosen by a jury chaired by Eva Neklyaeva (FI/BY), the Artistic Director of the Italian Santarcangelo festival, who was accompanied by Theatre Director, Artist Professor Mikko Roiha (FI) and Heike Roms (UK/DE), the Professor of Performance Studies at Aberystwyth University.
The chair of jury Eva Neklyaeva described the winner as follows:
"This is incredibly intelligent and emotional work. This artist, as she creates a diverse body of environments and experiences, speaks of 'the pulling of things into reality'. She makes speculative narratives, scenarios and environments. They manifest in various forms but each is an experience, a journey in time and space - and thought - that is deftly constructed, it is theatrical and live."
Winner in 2015: Willoh S. Weiland (AU)
ANTI Festival International Prize for Live Art was awarded for the second time at ANTI - Contemporary Art Festival in September 2015. The Australian artist Willoh S. Weiland was announced as the winner. The winner's new commissioned work, Artefact was presented at ANTI Prize Weekend in October 2016. Artefact is a ceremony for obsolete technology. It is an interdisciplinary event with performance, sound and documentary.
The five other nominees were Marilyn Arsem (US), Saara Hannula (FI), Myriam Lefkowitz (FR), Bob & Roberta Smith (UK) and Voina Collective (RU). The 2015 winner was chosen by a three member jury:  curator Tang Fu Kuen (TH), architect Sami Rintala (FI/NO) and director of Kiasma Museum of Contemporary Art, Leevi Haapala (FI) as chair.
The chair of jury Leevi Haapala described the winner as follows:
"The winner of the 2015 ANTI Festival International Prize of Live Art is an astonishingly ambitious artist. Her body of work to date appears to know no limits - it inhabits the city, the suburb and the natural world with the same sure-footedness, elegance, intelligence and verve."

Winner in 2014: Cassils
The first ANTI Festival International Prize for Live Art was one by a Canadian-American artist Cassils. In September 2015, Cassils returned to Kuopio with a work, The Powers That Be (210 Kilometers), created for the ANTI-Contemporary Art Festival. The work is an incidence of violence that combines assorted cultural contexts and yet at the same time is tied to a particular place. The audio world mixes news readings, music and radio speeches from both sides of the Finnish and Russian border.
The other five nominees in 2014 were Franko B (UK/IT), Frog King/Kwok Mang-ho (HK), Saa Sanoa -tuotanto (FI), Gwendoline Robin (BE) and Joshua Sofaer (UK). The jury was chaired by Ruth Mackenzie (UK), who was director of the international Holland Festival and the London Cultural Olympiad 2012. Other members of the jury were artist Anssi Kasitonni (FI) and architect Juhani Pallasmaa (FI).
Chairwoman of the jury Ruth Mackenzie described the winner:
"The winner's work is impressive, elegant, dedicated and great. The artist's body is transformed into an illusion: flesh becomes marble and marble becomes flesh. The artist's ability to present a human body as a work of art would command all due respect from Michelangelo and his followers - in just the same way as it commands respect from the jury."
Photo: Pekka Mäkinen Willoh S. Weiland, Artefact