Aku Louhimies' film The Unknown Soldier premiered in October 2017. This new version of The Unknown Soldier bridges the generation gap, presenting a new take on this great Finnish story that appeals to later generations, whose viewer experience has different reference points. Saastamoinen Foundation supported the impact campaign for this feature film.
This new adaptation of The Unknown Soldier, which was made to coincide with Finland's 100th anniversary of independence, is faithful to the first published version of Väinö Linna's novel, while also drawing from the uncensored version, Sotaromaani (A War Novel), which was published later. The film recounts the experience of our grandparents' generation in a way which appeals to our children. How does it feel to be at war? What has made us Finns what we are? What does independence mean to us?
The screenplay is by Aku Lohimies and Jari-Olavi Rantala, and the film is directed by Mika Orasmaa. The cast features actors including Eero Aho, Aku HIrviniemi, Jussi Vatanen, Johannes Holopainen, Hannes Suominen, Samuli Vauramo, Matti Ristinen, Juho Milonoff, Arttu Kapulainen and Paula Vesala.
Saastamoinen Foundation supported the impact campaign for The Unknown Soldier.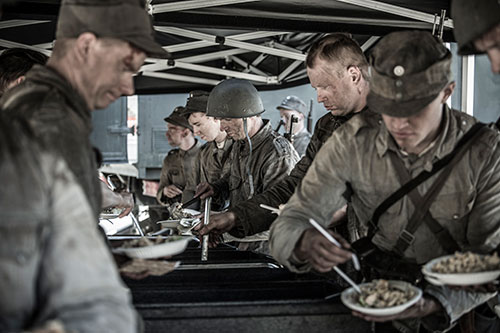 The Unknown Soldier is one of Finland's largest productions ever, and funding for the film was secured from numerous organisations and private investors. The Finnish Defence Forces also played a role. The Finnish Broadcasting Company (Yle) has acquired the rights to the film and TV series. The Finnish Film Association co-funded the film from Veikkaus lottery proceeds. A significant line-up of Finnish companies and foreign firms operating in Finland joined the many corporate partners. The film was part of the official Finland 100 Programme.
Saastamoinen Foundation provided funding for the film's impact programme, which was designed to extend the film's accessibility and develop themes relevant to the film on different platforms. Special screenings were programmed for war veterans for example, and screenings were also organised in areas that do not benefit from a cinema. Such events formed the core of the impact programme. A supplementary educational programme and full project documentation contributed to widening the film's appeal, relevance and effectiveness.
A book, a documentary and an exhibition exploring the film's background and how it was made were also vital parts of the campaign.
Photo: Tommi Hynynen, The Unknown Soldier